Joint project: vacuum insulation panels based on wood fiber; Subproject 2: Raw material optimization and modification, chemical analysis, ecological and economic assessment - acronym: WoodVIP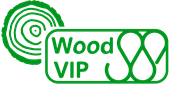 | | |
| --- | --- |
| | The research project 'WoodVIP' is intended as a feasibility study to examine the potential of vacuum insulation panels based on wood fiber and thus contribute to the use of wood-based materials in new market areas and to increasing the added value of wood products. |
| | The research project examines the suitability of wood fiber-based materials as core material for vacuum insulation panels (VIP) in technical (e.g. transport boxes) and building applications (e.g. insulation of the building envelope). The 'WoodVIP' produced in this way should have a comparable thermal conductivity in the range of 0.007 - 0.009 W / (m K) compared to conventional VIPs with cores made of fumed silica. |
| | Moreover, the use of a renewable raw material as the core material is expected to have significant advantages in terms of sustainability of the WoodVIP, as the environmental impact of VIPs is largely influenced by the core material. The use of comparatively inexpensive wood fibers as the core material also enables cost advantages in the manufacture of the WoodVIP. Compared to conventional, air-filled wood fiber insulation materials, there are advantages due to the fact that WoodVIP's thermal conductivity is 5 - 7 times lower. This enables thinner constructions and the potential for substitution of wood fibers compared to conventional insulation materials is increased through the more efficient use of materials. In addition, the impacts of moisture on the thermal conductivity as well as from wood-destroying fungi or molds are avoided by the high barrier films, without needing any additives. In the project, the influence of different wood species and fiber dimensions on the thermal conductivity, durability, life cycle assessment and economic aspects of WoodVIP are examined and evaluated in comparison to conventional wood fiber insulation materials and conventional VIPs for representative applications. |
| | Scientific and technical work goals: |
| | — Reduction of the thermal conductivity and thus the material use of the WoodVIP compared to conventional wood fiber-based insulation materials |
| | — Increase in the substitution potential of conventional insulation materials |
| | — Improvement of the durability of WoodVIP compared to conventional wood-fiber-based insulation materials, without using additives. |
| | — Significant reduction in the costs of WoodVIP compared to VIP based on fumed silica with comparable thermal conductivity. |
| | — Improved ecological balance and easier recycling of WoodVIP compared to classic vacuum panels thanks to the use of renewable raw materials as the core material. |
| | — Opportunities for recycling wood fibers from hardwood in a product segment with high margins (high-performance insulation materials). |
| | — Expansion of the product range of insulation materials made from renewable raw materials for the production of space-saving components in the area and for the highly efficient over-insulation of connections in cramped situations. |
| | — Investigation of the use of WoodVIP for use in transport boxes. |
| | In the sub-project at Holzforschung München, the outgassing behavior of wood fibers due to volatile substances is investigated and modification processes for pressure stabilization are tested. The data on the resulting manufacturing process and the raw materials required for this are introduced into a life cycle assessment study as well as an economic feasibility study for the sustainability assessment of the developed panels. |
| | |
| --- | --- |
| Duration | 01.12.2021 – 30.11.2023 |
| People | Chair of Wood Science: Engelhardt, Max;; Windeisen-Holzhauser, Elisabeth; Sander-Titgemeyer, Anna; Weber-Blaschke, Gabriele; Richter, Klaus |
| Project partners | Forschungsinstitut für Wärmeschutz e. V. München: Project coordination and execution of sub-project 1 (manufacturing, product properties, building physics investigations and durability) |
| | STEICO SE Feldkirchen: Participation in project meetings, consulting, production and tests, provision of industrially manufactured fiber material, production of a demonstrator (wall / roof component using woodVIP) |
| | Va-Q-tec Würzburg: Participation in project meetings, consulting, provision of test material, production of vacuum insulation panels with a wood fiber core as a demonstrator, production of cool boxes with a wood fiber core as a demonstrator, qualification tests on demonstrators |
| Project Management Agency | Agency for Renewable Resources |
| | "Fachagentur Nachwachsende Rohstoffe e. V. (FNR)" |
| | |
| Funding granted by: | |
Joint Research Project: Wood Based Materials in Mechanical Engineering (HoMaBa) - calculation concepts, requirements for parameters, determining of parameters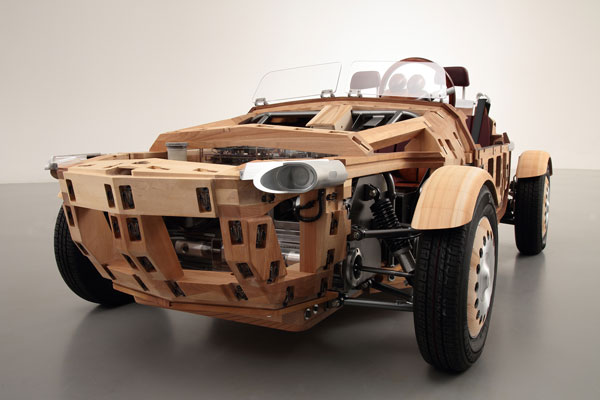 An extensive research project, funded by the Federal Ministry of Food and Agriculture (BMEL) and Fachagentur Nachwachsende Rohstoffe e.V. (FNR), has been launched to facilitate the usage of wood products in mechanical engineering applications. The aim of the project is to improve the predictability of wood composites and wood hybrids in lightweight construction applications. The joint project is divided into three main areas:
(1) The development and validation of a two-stage calculation concept for static, uniaxial loadings
(2) the specification and application of test methods for the determination of material properties of wood, wood-based materials and wood hybrids relevant for modern mechanical engineering approaches as well as
(3) the evaluation or validation of the synthesis from the calculation concept and determination of characteristic values by means of demonstrators.
The extensive research project is carried out in a network of nine scientific institutions, thus bundling the skills for all relevant types of wood-based materials within one project.
Industrial companies from the areas of wood-based material and adhesive production, wood construction and mechanical engineering as well as measurement and testing technology have assured their support for the project.
As an essential result, the characteristic mechanical property values suitable for the design process are made available in an electronic database.
The project is designed as a model project: follow-up projects such as an extension to additional loading cases, such as dynamic and multi-axial loading, as well as an extension of the database for all relevant types of wood, wood products and hybrid composites are planned in the medium term.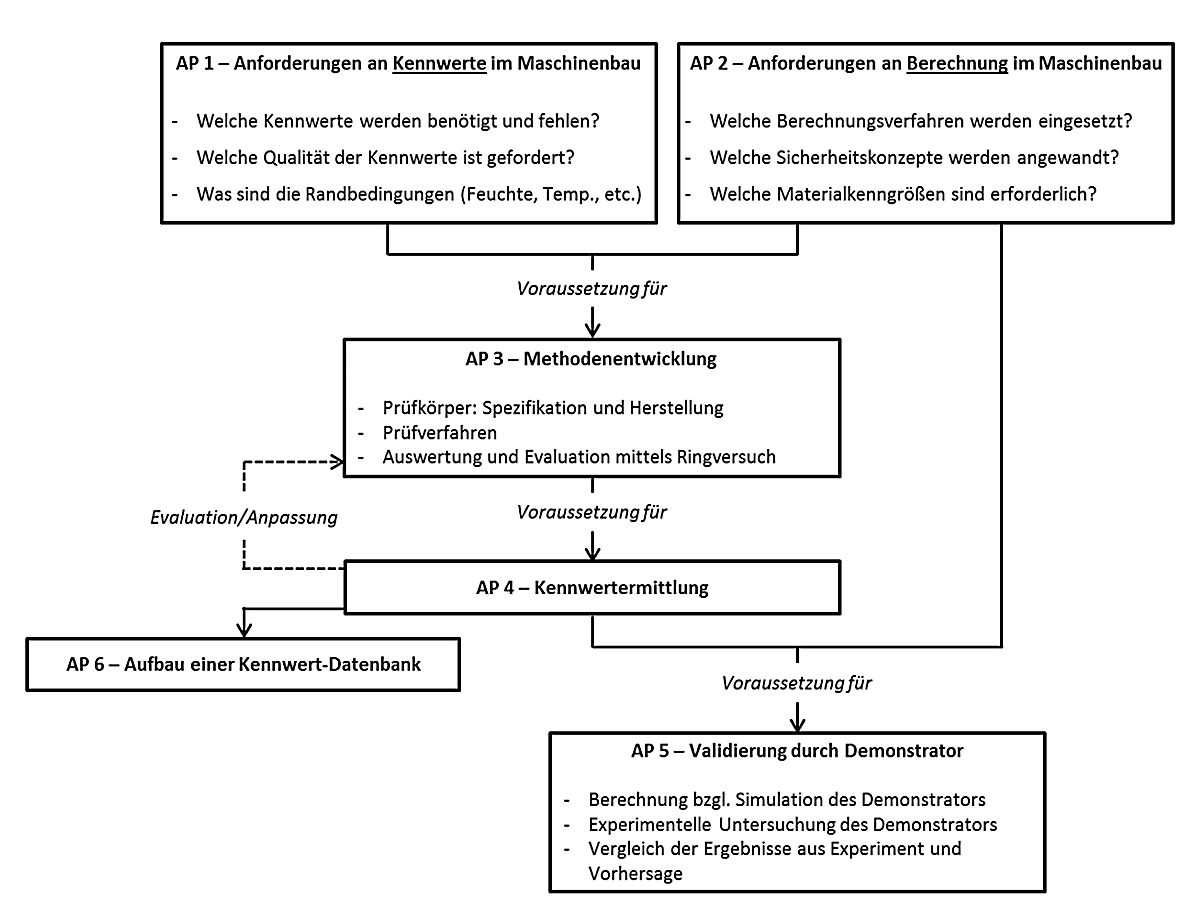 ClimateBond - Enhancing the Reliability of Bondings and Improvement of Emission Behaviour of Glued Laminated Timber (Glulam) from European Beech

Description: In the project "ClimateBond", initially, the surface bonding and the finger joint bonding of beech for the production of constructive components are to be examined. The development objective is a reliable and easy bonding technology that can be standardized and transferred into an industrial production process. In order to make this happen, various finger joint profiles, applied pressures or glue application amounts are to be tested. In addition, special attention should be payed to the climate dependency of the adhesion during and after the bonding process in order to minimize the impact of the ambient conditions on the bonding quality and consequently make the bonding more reliable. Another objective of this project is the development of an innovative support structure as an alternative to the common beech glued laminated timber. A three layer structure is targeted: the middle layer of the member should be made of board-shaped, block bonded beech wood wdruckgurthich also allows the processing of lower, cheaper qualities. The higher strained tension and compression zones should be made of lamellae of higher quality. Furthermore, health aspects should be examined in the project. Beech is very attractive for application in internal space as it naturally emits only a small amount of VOCs. Examinations in this field, especially of solid wood in combination with various adhesives are missing though to date. The emission behaviour of laminated wood resp. of component parts newly developed in this project should be supervised from the production to the installation.
Duration
01.10.2018 - 30.09.2021
Leadership
Georg-August-Universität Göttingen, Faculty of Forest Sciences and Forest Ecology, Wood Biology and Wood Products, Prof. Dr. Holger Militz TU Munich, Holzforschung München, Chair of Wood Science, Prof. Dr. Klaus Richter
Project Partners

NOKA Holzverarbeitungs-GmbH
Bau-Fritz GmbH & Co. KG
Georg-August-Universität Göttingen
TU München

Project Funding
Central Innovation Programme for small and medium-sized enterprises (SMEs)i; funding number: 16KN042025
Information / Results / Reports
Subsequently general links to the websites of the University of Göttingen and Holzforschung MünchenUniversity of GöttingenHolzforschung München
SecureWoodBonding - Optimization of 1C-PUR bonding of durable and high-strength wood species

The scope of the project is to ensure reliable bonding of timber engineered products from currently less used wood species with 1C-PUR adhesives. For this purpose, the mechanism of primers as well as the possibility of NIR spectroscopy as a tool for quality assurance is tested on the wood species: beech, birch, larch and douglas fir.
| | |
| --- | --- |
| | Project background: The scope of the project is to ensure reliable bonding of timber engineered products from currently less used wood species with 1C-PUR adhesives. For this purpose, the mechanism of primers as well as the possibility of NIR spectroscopy as a tool for quality assurance is tested on the wood species: beech, birch, larch and douglas fir. In today's products, one-component polyurethane adhesives (1C-PUR) are used successfully with spruce and fir. However, with species rich in extractives (e.g. larch and douglas fir) or species creating strong tensions due to moisture changes (e.g. beech and birch) the bond quality might be inferior. A possible solution to improve the bond performance it to pretreat the bond surfaces with a primer system. Even though the positive effect of a primer is known from empirical studies, the exact functionality remains unknown and requires further research. Scope: (1) To understand the functionality of the primer in order to possibly include the function in the adhesive itself. Therefore, different primer systems, the interactions of primer and wood as well as the overall bonding quality are assessed with different methods. (2) The NIR spectroscopy is tested for its ability to serve as a quality assurance tool in the bonding process. It shall be evaluated if the technology is suitable to automatically determine the wood's moisture content as well as locate local contaminations of chemicals which reduce the bond quality. Therefore, basic research is conducted in the laboratory and its industrial-scale applicability will be assessed. |
| Duration | April 2018 – March 2021 |
| People | Böger, Thomas; Özparpucu, Merve; Richter, Klaus |
| Funding | Bayerische Forstverwaltung (Bavarian Forest Administration) |
| | |
| | |