Emeriti look back on their time at Weihenstephan
In an interview with Vice Dean Prof. Dr. Wolfgang Liebl, they talk about their experiences, their best working moments and their plans for the future.
Biopolymer Chemistry | 2001 - 2023
Humanbiology | 2002 - 2022
Livestock Biotechnology | 2003 - 2022
Animal Nutrition | 2010 - 2022
Food and Bioprocess Engineering | 2000 - 2021
Animal Breeding | 1995 - 2021
Amberger, Anton
Ammer, Ulrich
Auernhammer, Hermann (Emeritus of Excellence)
Back, Werner
Bauer, Johann
Besch, Michael
Cerny, Gerhard
Daniel, Hannelore
Dempfle, Leo
Denk, Viktor
Durner, Jörg
Elstner, Erich
Engel, Karl-Heinz
Estler, Manfred
Fengel, Dietrich
Feucht, Walter
Fischer, Anton
Forkmann, Gert
Fries, Hans-Rudolf
Fritz, Dietrich
Gierl, Alfons
Glos, Peter
Görg, Angelika (Emerita of Excellence)
Graßmann, Eberhard
Grill, Erwin
Haber, Wolfgang
Hock, Bertold (Emeritus of Excellence)
Höll, Wolfgang
Horn, Wolfgang
Huber, Wilfried
Karg, Georg
Kennel, Eckhard
Kettrup, Antonius
Klostermeyer, Henning
Knoppik, Dietmar
Kulozik, Ulrich
Langosch, Dieter
Langowski, Horst-Christian
Lamina, Josef
Latz, Peter
Leppelsack, Hans-Joachim
Löffler, Hans
Manley, Geoffrey
Matyssek, Rainer
Melzer, Arnulf (Emeritus of Excellence)
Mewes, Hans-Werner
Meyer, Joachim
Meyer-Pittroff, Roland
Mosandl, Reinhard
Müller-Starck, Gerhard
Munch, Jean Charles
Narziß, Ludwig
Niederbudde, Ernst-August
Nitz, Siegfried
Oßwald, Wolfgang
Parlar, Harun
Pfadenhauer, Jörg
Pichert, Horst
Pirchner, Franz
Polster, Jürgen
Precht, Manfred
Pretzsch, Hans
Quednau, Hans Dietrich
Radola, Bertold Joachim
Rehfueß, Karl-Eugen
Richter, Klaus
Roth, Franz Xaver
Roth-Maier, Dora
Sambraus, Hans Hinrich
Schemann, Michael
Scherer, Siegfried
Schleifer, Karl-Heinz (Emeritus of Excellence)
Schmidhalter, Urs
Schmidt , Hanns-Ludwig
Schnieke, Angelika (Emerita of Excellence)
Schnitzler, Wilfried Hermann
Schnyder, Johannes
Schopf, Reinhard
Schröder, Wolfgang
Schwarz, Frieder Jörg
Schwertmann, Udo
Simon, Uwe
Sommer, Karl
Staudenbauer, Walter
Steinhauser, Hugo
Steinmüller, Heinz
von und zu Urff, Winfried
Vogel, Rudi F.
Warkotsch, Walter
Weber, Michael
Wegener, Gerd (Emeritus of Excellence)
Weichmann, Jürgen
Weisser, Horst
Wenzel, Gerhard
Windisch, Wilhelm
Witt, Dieter
Wolfram, Günther
Zeller, Friedrich
Ziche, Joachim
Ziegler, Hubert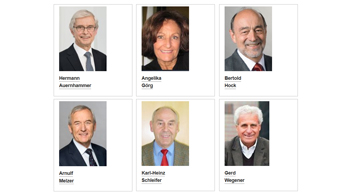 TUM Emeriti of Excellence
Since 2006, the TU Munich has honored outstanding retired scientists with the honorary title TUM Emerita or TUM Emeritus of Excellence and involved them in important projects of the university.
Here you can find the Emeriti of Excellence of the TUM School of Life Sciences.