Research for One Health
Health must be considered on a global scale. Sustaining health is one of the most urgent challenges of our time and requires integrated approaches from various scientific disciplines. At the TUM School of Life Sciences, we are committed to actively engaging with the current critical challenges of climate change, population growth, biodiversity loss, dwindling resources, food security, healthy nutrition, and disease prevention. The concept of "One Health" integrates a broad understanding of the interactions between humans, animals, plants, microorganisms, soil, and the environment to ensure a sustainable and resilient future of healthy living.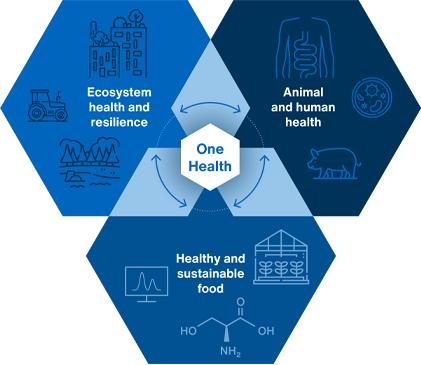 To achieve this goal, scientists from various disciplines at the TUM School of Life Sciences collaborate to conduct interdisciplinary research on:
ecosystem health and resilience,
animal and human health, and
healthy and sustainable food.
The Departments of the TUM School of Life Sciences focus on molecules, organisms, and ecosystems, as well as their interrelationships. The aim is to link new insights and discoveries to better shape the coexistence of humans and nature through human-centered engineering. By adopting a systemic approach, scientists strive to create a healthy future for our planet.
Research networks at the TUM School of Life Sciences
More than 90 professors at the TUM School of Life Sciences work in three research departments according to their specialist subjects or criteria related to scientific research methodology. An extensive network of research institutes cooperates closely with the departments.The TUM corporate reseach centers which have settled on the campus Weihenstephan are dedicated respectively to an individual theme focus and also include other departments of TUM.
Research News
Research, Campus, Studies
|