First time here? Everything for a successful start into your studies.
You´ve got your admission? What´s next? There are many things to be organised and planned. From Student Card, fees and scholarships to finding accommodation - university life has to be organised by yourself. With our checklist you are well prepared for the start of your studies.
First Contact Program
Our First Contact Program supports your entry into the first semester with interesting introductory events. You can learn how to use TUMonline, you can take part in campus and library tours and listen to various useful lectures. A huge plus is that you're getting to know other students.
The virtual service fair Fit for TUM for newcomer students will also help you get started with your studies. Here you can learn more about topics as financing your studies, accommodation, sports and university life.
The First Contact program kicks off with a ceremonial welcome to first-year students, to which the student council Weihenstephan (SCW) cordially invites you. Dean Ingrid Kögel-Knabner and a representative of the city of Freising will welcome all freshmen. In addition, the student representatives of the individual departments will introduce themselves and you will receive valuable information about your studies.
Date: Monday, 9 October 2023 at 10 am, in lecture hall 14 (HS 14)
You can attend in person or watch the event via livestream.
At our welcome event for international students, we explicitly want to welcome students from abroad: You will learn useful information about your studies at the TUM School of Life Sciences, about living in Freising and Germany in general.
Date: Monday, 9 October 2023 | 2 p.m.
The event can be attended on campus or followed via ZOOM.
Welcome to our green campus! All international students are cordially invited to our Campus Tour.
The Campus Tour will provide you a good overview of the entire campus in Weihenstephan. The tour shows not only all departments and research institutions but the library, the cafeteria and computer labs as well. Furthermore basic topics are explained which are associated with everyday life on campus.
The TUM University Library provides you with about 1.5 million books and journals. Your "entrance ticket" is the StudentCard.
Find out more on a virtual library tour! All dates and registration via the library webpage.
Further useful courses on research and citation in science can be found on the website of our university library.
Whether you want to register for courses, take exams or check your grades - our Campus Management System TUMonline and the Learning Management System TUM-Moodle will accompany you throughout your studies.
How you log in, what you need the applications for and all important functions are explained here.
In a live session, you can learn more about TUMonline and Moodle and ask your questions directly:
TUMonline video tutorials:
The subject-specific introductions to the bachelor's and master's degree programs are scheduled to take place on Tuesday, October 10 and Wednesday, October 11, 2023. Detailed info will follow.
Welcome Guide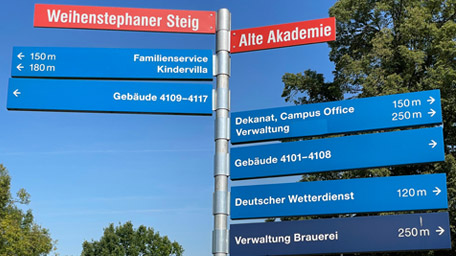 First-Years'Event 2022
Welcome to TUM! President Hofmann greets first-semester students on campus. More Info